Inspired by Travel, Fuelled by Giving Back.
Gandys is so much more than a brand that empowers your escapism it's a brand focused on giving back. In the Boxing Day Tsunami of 2004, The Gandys brothers lost their parents. Though struck by tragedy, they were able to build something positive in their parent's memory. We've made it our mission to enact positive change around the world. We created the Gandys foundation which funds our six global campuses. Our campuses are designed to educate and create opportunities for underprivileged children around the world.
With every purchase you make you're contributing to making a difference in a child's life.
BRAND GUIDELINES CONDENSED
A brand is only as strong as the sum of its parts.
You are responsible for upholding the brand guidleines to the best of your ability.
If in doubt, ask.
---
An Unconventional Childhood
Our founder's upbringing introduced them to a different way of life and learning. In 2001, Rob and Paul's parents sold everything they had to allow their family the freedom to explore, learn, give back and see the world. It was in the markets bartering for fruit and veg where they learnt maths. The feelings of enlightenment and understanding when visiting temples, churches and mosques across India taught them about religion. Through travelling the world and taking the unbeaten path they learnt geography and history. Through their schooling, they witnessed the inequality other children and families experienced, this sparked their passion for volunteering.
A love for travel inspired the creation of Gandys. Now, we hope our love for travel inspires you to fuel your next adventure and experience the freedom of escapism.
Gandys was designed by travellers for travellers. Our products are made for those on a journey and for anyone who embodies the traveller's spirit and has the thrill to explore. The legacy of exploration and seeking out adventure whilst helping others carries on. At Gandys we continue to travel to different countries to give back, take part in charitable projects and immerse ourselves in different cultures. We encourage you to embody the spirit of Gandy's on your next adventure.
The Day That Changed Everything
7:59 am
The deadliest Tsunami in record history took the lives of 230,000 people in a matter of hours. Devastatingly, Sri Lanka was one of the country's worst hits. More than 30,000 people were swept away by the waves and hundreds of thousands were left homeless. Aged eight to seventeen, Rob, Paul, Mattie and Rosie made a harrowing 200km trek across the decimated country to discover what happened to their parents. On this day Rob and Paul Forkan, and their younger siblings, were orphaned. With great strength and determination, they overcame this adversity and went on to create a brand that has helped disadvantaged children all over the world.
It all began with flip-flops. Using our favourite choice of footwear for travel and adopting a pioneering spirit, we were able to carve a path for ourselves to educate others less fortunate and establish a brand that's not only good for you but actively helps others too.
Back To Where It All Began
The Gandys Foundation, was established in 2013 by Rob and Paul. Since its inception, the charity has grown from its first campus in Sri Lanka, which helped families and children who had been affected by the Tsunami to having campuses built in Brazil, Nepal, Malawi and Mongolia. Gandys charitable reach is global and as you buy with us to prepare for your adventures you're helping children worldwide to gain an invaluable education.
Gandys continues to be fuelled by giving back and helping you to encompass the spirit of escapism. We encourage you to keep exploring, push boundaries and be a pioneer for change and adventure.
We have one logo, available in black or white.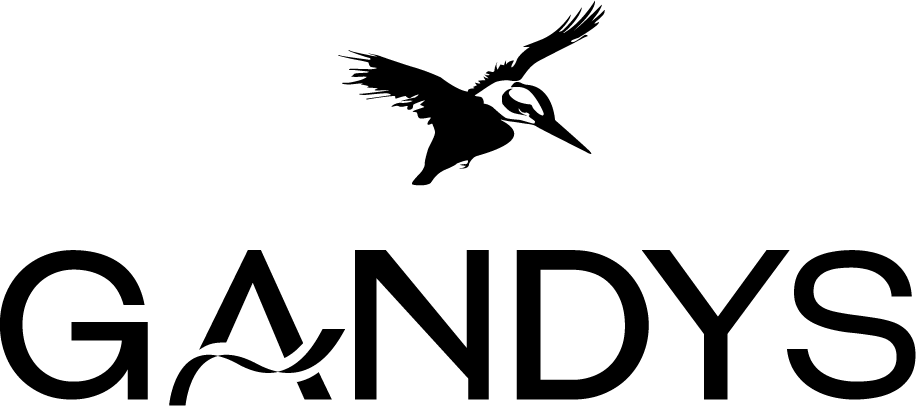 ---
We use two font families, Servus Slab and Roboto. Servis Slab is our hero font and draws inspiration from traditional Indian typography.
DOWNLOAD FOR MICROSOFT APPS
Servus Slab Regular shold only be used for H1's and main titles. Used sparingly it is a powerful attention grabbing font.
Roboto Bold should only be used for sub-titles. It is intended to be used in all caps.
Roboto Regular is our body copy font. Used for all paragraph copy. At no point should it be used in all caps.
---
Our primary colour pallet consists of two colours and shades.
---
A PICTURE SPEAKS A THOUSAND WORDS
We have some amazing photography at our disposal. Always choose imagery over more text, people are more likely to get the message.
---
THE MOST POWERFUL ASSETS WE HAVE
The most powerful story telling assets we have
---
INSPIRED BY TRAVEL FUELLED BY GIVING BACK
Gandys Foundation is the heart and soul of our business. Every time you buy from us, we donate. Your purchases help fund our life-changing Kids Campuses across the globe, aimed at providing education for children living in extreme poverty.
Behind Every Great Adventure