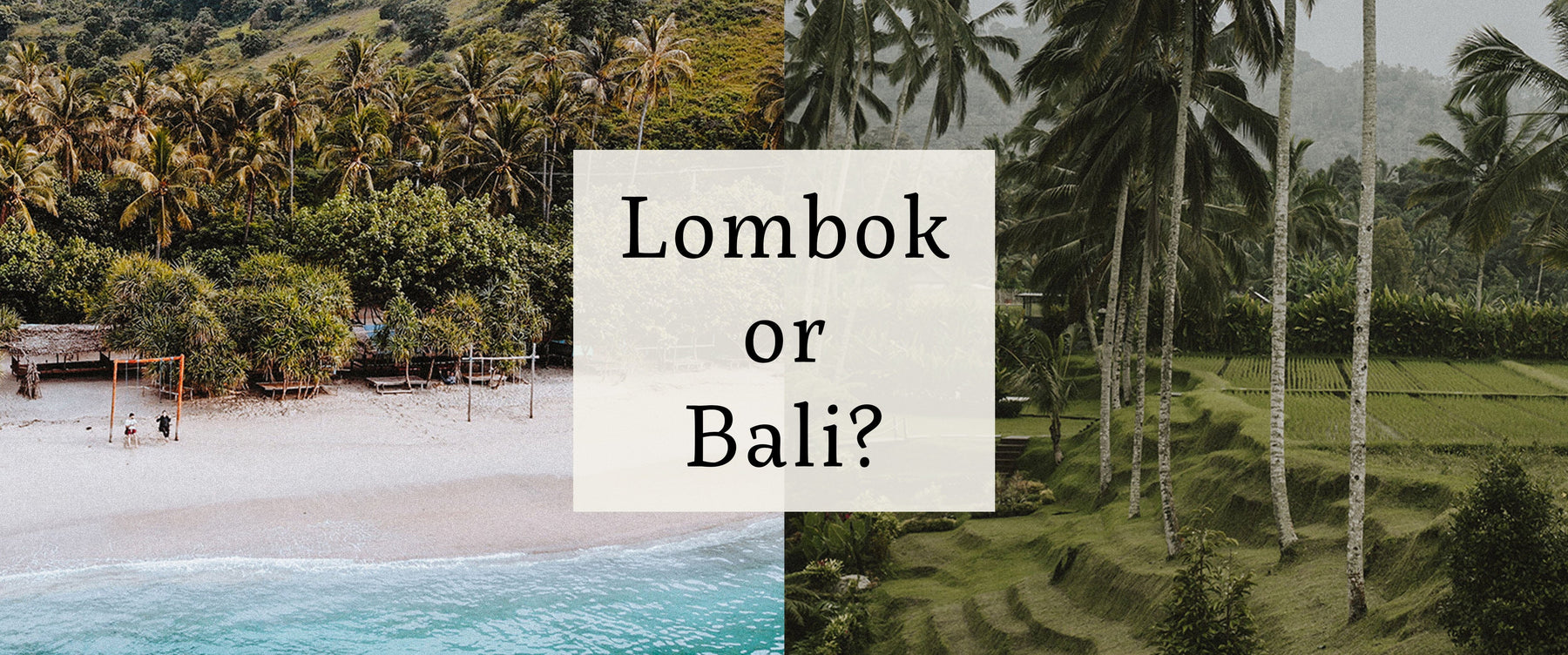 Atlas
GANDYS TRAVEL TIPS: BACKPACKER'S GUIDE TO LOMBOK & BALI
Published : May 10
Written By : Samantha Goodburn
Location :
When planning an Indonesian backpacking adventure, Bali and Lombok are always high on the list. 
But which is best, Bali or Lombok...?
To celebrate the launch of our latest backpack, The Lombok, we are shining a light on the breathtaking location it was named after. But we couldn't talk about Lombok without discussing the neighbour of this Indonesian Island: Bali. Are you planning a trip and unsure which to choose? Keep reading for our ultimate travel guide to help you make a decision. 
When it comes to Indonesian destinations, Bali is often the first place that comes to mind. While Bali certainly has a lot to offer, there's another island just a short ferry ride away that's worth considering: Lombok. 
Here are some reasons why a traveller might choose to visit Lombok instead of Bali:
Less crowded: While Bali's popularity has made it a bustling tourist destination, Lombok remains relatively untouched. The island's natural beauty is still preserved, and you'll find fewer crowds on the beaches and in the towns.
Stunning beaches: Lombok's beaches are just as beautiful as Bali's, if not more so. With clear blue waters and pristine sand, they're the perfect place to relax and soak up the sun. Some of the must-visit beaches on the island include Kuta Beach, Tanjung Aan, and Senggigi Beach.
Trekking: For outdoor enthusiasts, Lombok's Mount Rinjani is a must-visit. It's the second-highest volcano in Indonesia and offers challenging trekking routes to the summit. The views from the top are breathtaking, and you'll have the satisfaction of conquering a difficult climb.
Cultural experiences: Lombok is home to several traditional Sasak villages where you can experience local culture and traditions. Sukarara Village, for example, is known for its weaving traditions, while Sade Village is a great place to learn about traditional Sasak architecture. 
Gili Islands: Just off the coast of Lombok are the three Gili Islands: Gili Trawangan, Gili Meno, and Gili Air. These islands are known for their stunning beaches, crystal-clear waters, and relaxed atmosphere. They're a popular destination for backpackers and offer a different experience than the main island of Lombok.
Authentic local cuisine: Lombok's food scene is just as diverse as Bali's, but with a unique twist. You'll find plenty of local specialties like ayam taliwang (grilled chicken with spicy sauce) and plecing kangkung (water spinach salad with tomato and chili paste). 
So, while Bali is certainly a beautiful destination, Lombok offers a quieter, more laid-back experience with stunning beaches, cultural experiences, and outdoor adventures. If you're looking for a more authentic Indonesian experience, consider adding Lombok to your travel itinerary.
Not convinced?
Bali, known as the "Island of the Gods," is one of the most popular destinations in Indonesia, and for good reason. While Lombok has its own unique charm, Bali offers a range of experiences that make it an ideal destination for couples seeking a romantic getaway. Here are some of the reasons why you might choose Bali over Lombok:
Romantic atmosphere: Bali is renowned for its romantic atmosphere, with stunning beaches, picturesque rice paddies, and lush jungle landscapes. The island is filled with secluded spots perfect for couples seeking a romantic escape.
Luxury accommodations: Bali is home to some of the most luxurious resorts in the world, offering couples a range of options for a romantic stay. From private villas with infinity pools to beachfront bungalows, there's no shortage of options for couples looking for a romantic retreat.
World-class dining: Bali is a foodie's paradise, with a range of dining options from traditional Indonesian cuisine to international fine dining. Many of the island's restaurants are set in romantic locations, such as overlooking the ocean or nestled in a jungle setting.
Beaches: Bali's beaches are world-renowned for their beauty, with crystal-clear waters and pristine white sand. There are plenty of secluded spots for couples looking for a romantic day at the beach, such as Jimbaran Beach or Nusa Dua Beach.
Cultural experiences: Bali's unique blend of Hindu-Buddhist culture makes it an intriguing destination for couples seeking a cultural experience. From visiting ancient temples to attending traditional dance performances, there's plenty to explore and learn about on the island.
Nightlife: Bali has a thriving nightlife scene, with beach clubs, rooftop bars, and nightclubs offering plenty of options for couples looking to dance the night away.
Wellness and spa treatments: Bali is famous for its wellness and spa treatments, with many resorts offering couples' packages that include massages, facials, and other treatments designed to rejuvenate and relax.
In summary, Bali offers a unique blend of luxury, romance, and culture that make it an ideal destination for couples seeking a romantic getaway. From world-class dining to stunning beaches and cultural experiences, there's no shortage of reasons why you might choose Bali over Lombok for your next romantic escape.
So which will you choose? 
While both Lombok and Bali are popular destinations in Indonesia, Bali is generally considered more popular among tourists. Bali has been a well-known tourist destination for decades and has a well-developed tourism industry, attracting millions of visitors each year. Bali's popularity is due to its beautiful beaches, rich cultural heritage, stunning landscapes, and a wide range of tourist activities.
On the other hand, Lombok is a relatively new tourist destination that is gaining popularity, especially among travellers seeking a more off-the-beaten-path experience. Lombok's attractions include beautiful beaches, stunning nature, and unique cultural experiences.
However, the popularity of both destinations depends on personal preferences and interests. Some travellers may prefer Bali's lively atmosphere and extensive tourism infrastructure, while others may prefer Lombok's more tranquil and less crowded atmosphere.
Every Journey Starts with a Bag 
Did you know that our bags are named after some of our favourite backpacking locations? Now you've chosen which Indonesian island to visit, which bag are you taking with you, the Bali or the Lombok? 
Both are large bags, made from 100% organic cotton and natural leather. The Lombok's sand colour can be styled with any outfit, whereas the Bali comes in five different colourways, so you can pick your favourite! 
Which Gandys bag gets your vote? 
You're helping us educate children worldwide with this purchase